I've had an empty wall in the living room and I've been clueless on what I should do. I saw the artwork below in Ballard Designs catalog and then stumbled upon Thrifty Decor Chick's blog and she was inspired by the SAME artwork!!
Ballard Designs beautiful artwork = $200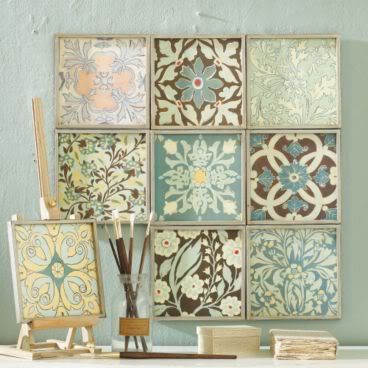 This project was incredibly easy, that even the not-so-crafty gals out there will be able to tackle this one with no problems!
Here is what you'll need:
9 - 12" x 12" pieces of MDF
9 - Sheets of Scrapbook paper - You can use and paper you like. Some of my pages were embellised with glitter.
1 can of matching spray paint - I used a chocolate brown to match my decor
Spray all edges of the MDF with the spray paint of your choice.

Once dry, use the spray adhesive to completely cover the front of each board and the back of the scrapbook paper. Let set for about a minute.
Place the scrapbook paper on the front of each board - Adhesive side down.
Thrifty Decor Chick nailed her art directly into the wall, however, I decided to use brackets on the back of my boards to hang them. Either way will work perfectly!
Since the "Design Rule" is to work in odd numbers, I decided to use 9 squares as shown in the Ballard Designs catalog.
This project is SUPER Simple and I really like how it turned out.
I already and the MDF and spray paint on hand, so the total cost of my inspired project was $10.38!! FABULOUS!!