Holly and Mel are hosting a Wedding Deets Link Up today and so I thought... Why Not?!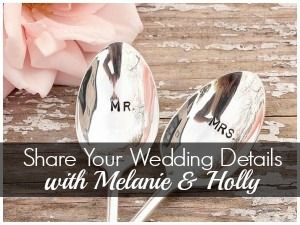 Let me first start by saying that I never dreamed of having a big wedding, I never picked out a beautiful wedding dress and I never had these visions that would last a lifetime.
My dream was to find the perfect man, have a beautiful family and spend a life together that would fill my heart with happiness every.single.day. I am living my dream! I NEVER stopped and wondered if a wedding was important to Big D...




SO, my first trip to Vegas and TEN YEARS into our relationship, Big D surprised me...



Location -- VEGAS, baby! Big D told me to get dressed for a night on the town, the limo showed up (not surprised... I was born to be driven from destination to destination by a driver I can hardly understand), we pulled up to a building and got out. Big D looked at me and said, "Will you marry me?" and my response, "What would you do if I said NO?"... He said, "It's a long walk back to Texas!" How could I ever say "NO" to this man?!


Bridal Party -- It was just Big D and I... We wouldn't have it any other way!




Colors -- We didn't have colors, but the Vegas Strip was ALL THE COLOR I NEEDED!


First Dance
-- No dance for us, so we spend most Sundays dancing around the house together. LOVING the life we live! The song I would choose is Fat Bottomed Girls... I kid, I kid! I'd choose
Feet Don't Touch the Ground
by Stoney Larue.
Honeymoon -- Hellooooo! We got married in Vegas! That was honeymoon enough for me! I might be Miss America, but I'm a low-key Miss America.
What Would I Change? -- Not one thing... Honestly! This type of wedding would not work for everyone, but it's the marriage that is most important of all. I am in a marriage that I could never have dreamed of!

How we fell in love is so precious and this man SAVED ME!