I've heard it said that when you recieve great service, you will tell one person; however, when you receive poor service, you will tell ten.

I am the complete opposite... Yes, I still let you know when I receive poor service, BUT I want to shout it to the world when I recieve great service and/or stumble across something/someone that I think is absolutely FABULOUS!

Today is no different...




We had family photos taken a while back (
Click HERE to view photos
) with Sabrina at Southern Grace Photography & I must say that she is ABSOLUTELY SPECTACULAR! The priceless moments she captures are like non-other & the friendly uplifting spirit she brings is just so comforting.

She definitely had her challenges with us (I just might be the most insecure person I know), but she did a beautiful job & I am so grateful that I've met her.

If you live in the Houston or surrounding areas, PLEASE, PLEASE take time to have Sabrina capture these priceless moments, you will be forever grateful!

You can find Sabrina's Blog here:

http://southerngracephotog.blogspot.com/


Her latest blog post will really get you thinking:

http://southerngracephotog.blogspot.com/2010/05/whats-holding-you-back-from-capturing.html


Check out her portfolio on Facebook:

http://www.facebook.com/photo.php?pid=30640046&id=1492265901#!/southerngracephoto


Thank you again Sabrina for sharing your beautiful work with us, for inspiring me & for capturing moments that we will never get back. You are simply amazing!

If you are a blogger, I encourage you to add Sabrina's button to your blog & check back often for updates & specials.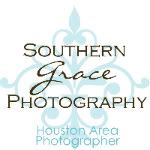 "Photography is a way of feeling, of touching, of loving. What you have caught on film is captured forever. It remembers little things, long after you have forgotten everything." -Aaron Siskund